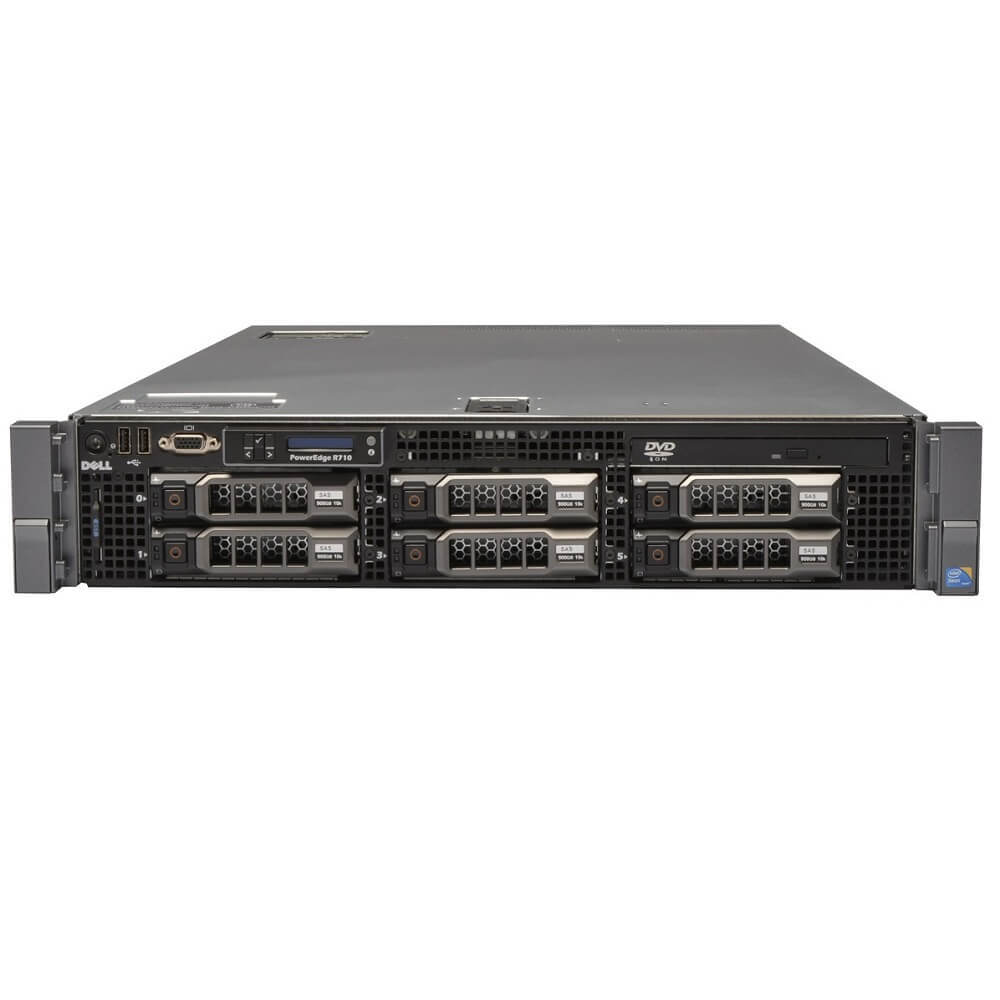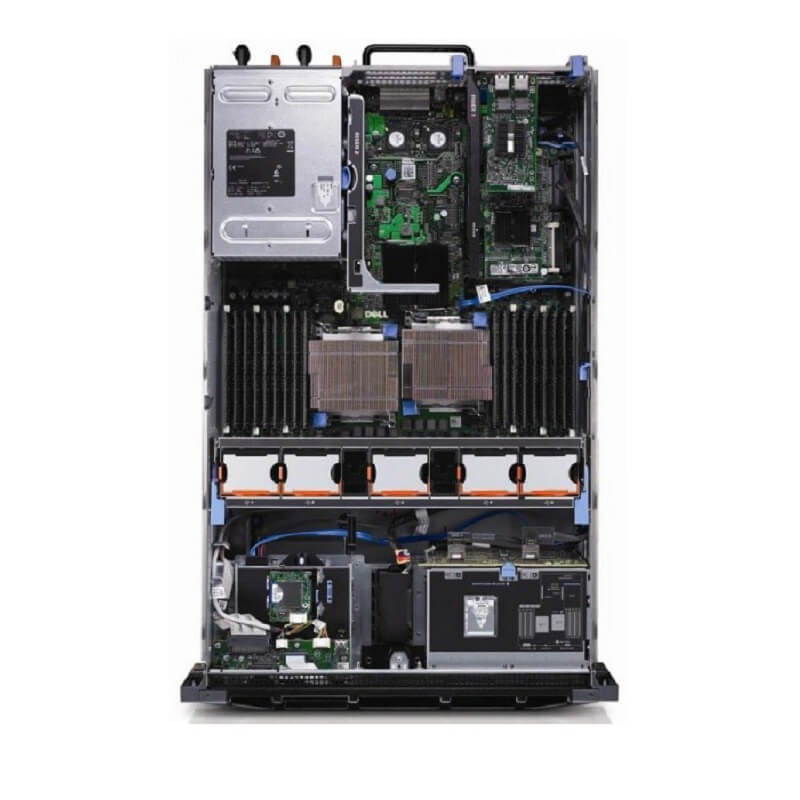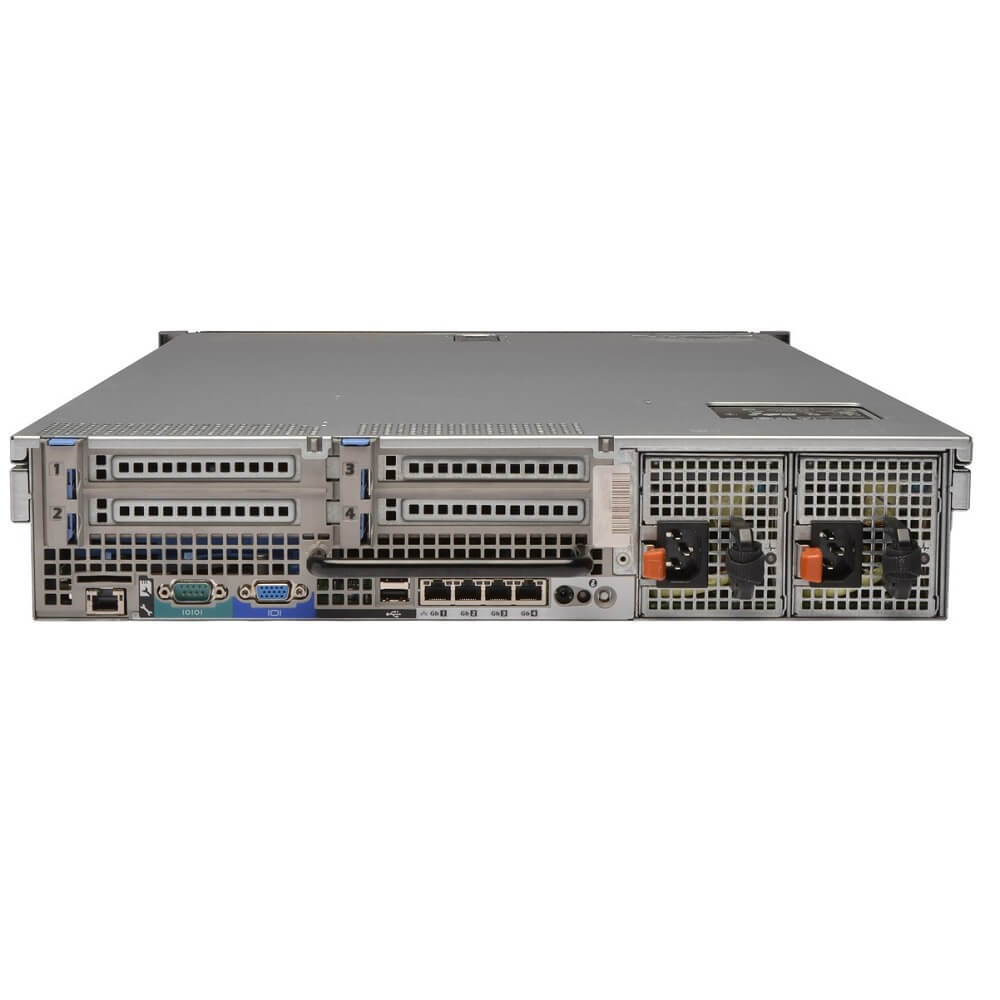 R710 Server
The R710 is a 2-socket, 2U rack server, it uses quad-core or six-core Intel Xeon processor from the 5500/5600 series. The server has 18 DIMM slots for up to 288GB of DDR3 memory. You have the option of choosing betwee eight 2.5" hard drives or six 3.5" hard drives for up to 18TB of internal storage. If you would like to increase your servers system management you can choose in include and iDRAC6.
---
Processor: Quad-core or six-core Intel Xeon processor 5500 and 5600 series
Memory: Supports up to 288GB of total memory, 16 DIMM slots, 8 slots per CPU (actual memory speed dependent on processor capability)
Hard Drives: Hot-plug hard drive options: SAS SSD, SATA SSD, SAS (15K, 10K), nearline SAS (7.2K), SATA (7.2K); 3.5" SAS (15K, 10K), nearline SAS (7.2K), SATA (7.2K)
Drive Bays: Up to Six 3.5'' SATA or SAS Hot-Plug Bays.
Raid Controller:
Internal:
PERC H200 (6Gb/s)
PERC H700 (6Gb/s) with 512MB or 1GB battery-backed cache
SAS 6/iR; PERC 6/i with 256MB battery-backed cache.
External:
PERC H800 (6Gb/s) with 512MB or 1GB of battery-backed cache
PERC 6/E with 256MB or 512MB of battery-backed cache
External HBAs (non-RAID):
6Gbps SAS HBA
SAS 5/E HBA
LSI2032 PCIe SCSI HBA
Operating System:
Microsoft Windows Small Business Server 2011
Microsoft Windows Small Business Server 2008
Microsoft Windows Server 2008 SP2, x86/x64 (x64 includes Hyper-V)
Microsoft Windows Server 2008 R2 SP1, x64 (includes Hyper-V v2)
Microsoft Windows HPC Server 2008 R2
Novell SUSE Linux Enterprise Server
Red Hat Enterprise Linux
Oracle Solaris
Virtualization options:
VMware vSphere 4.1 (including VMware ESX 4.1 or VMware ESXi 4.1)
Power Supply: Energy Smart: Two hot-plug, high-efficient 570W power supplies or High Output: Two hot-plug 870W power supplies
Optical Drive(s): Slim optical drive bay with choice of DVD-ROM, Combo CD-RW/DVD-ROM, or DVD + RW
Dimensions: 60 Lbs, 26.8'' x 17.44'' x 3.4'' (L x W x H)
Networking: Four embedded Broadcom NetXtreme II 5709c Gigabit Ethernet NIC with failover and load balancing. (Optional add-in NICs and HBAs available.)
Slots: 4 PCIe 2.0 slots + 1 storage slot: two x8 slots, two x4 slots, one x4 storage slot.
Remote Management: Optional iDRAC6 Enterprise.
Video: Matrox G200 with 8MB of cache.
Peripherals: Power Cable Included. Rail Kit, Bezel, Mouse, Keyboard, and Video Cable Not Included.
---