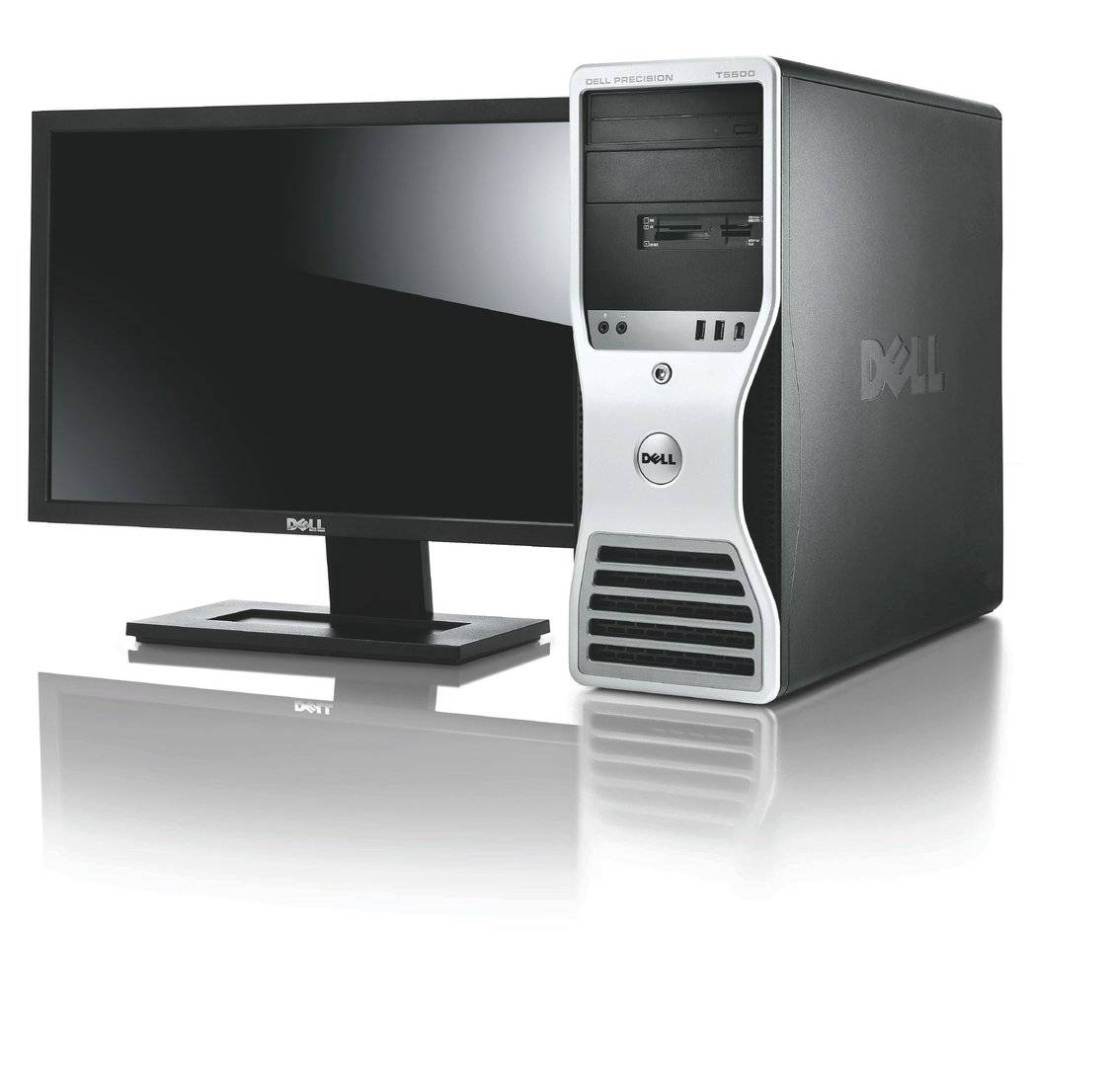 Precision T5500 Workstation
The T5500 can use the Intel Xeon 5500 or 5600 processor with up to 6-core. The system uses the Intel 5520 chipset. The maximum amount of memory available is 72Gbs of DDR3 registered memory and speeds of up to 1333Mhz, there are 6 DIMM slots available in the first processor but adding a second processor with a riser card you can get an additional 3 DIMM slots. As for the video cards the system can handle anything from the Nvidia NVS 295 to the Quadro 600 among other video cards. The system has 2 PCIe x16 GEN2 with up to 150W support. There are also 2 x16 wired x8 slots and Legacy PCI/PCI-X slots. The T5500 SATA 2 Gb/s can manage or hard drives or you can add a PERC 6 if you would like to use SAS drives. There are 2 internal drives with a maximum of 6TB of storage. This system uses is a 875W 88% efficient power supply. For the operating system we recommend using Windows 7.
---
Intel Xeon 5500 and 5600 Processor Family

Up to 12 Cores, 24 Cores Hyperthreading

Up to 72GB of DDR3 1333Mhz Memory

Up to 5 Year Warrenty Available
---
Processor: Intel Xeon 3500, 3600, 5500, and 5600 series processors up to six-cores with up to 6.4GT/s (Intel QuickPath Interconnect) and up to 12MB shared cache. Turbo Boost Mode on select processors

Memory: Supports up to 144GB of total memory, Three-channel memory architecture per processor with up to 1333MHz DDR3 ECC Registered DIMM memory. Up to 9 DIMM slots; 6 slots (2 per channel) on motherboard and additional 3 slots on optional 2nd processor riser card (actual memory speed dependent on the processor capability).

Drive Bays: Chassis supports up to two internal drives plus 3rd/4th drives in flex/optical bays (mini-tower) (6.0TB maximum storage capacity).

Raid Controller: SATA 3.0GB/s host controller (part of the integrated Intel ICH10R I/O controller hub); Optional SAS 6/ir controller supports SAS drives with hostbased RAID 0 or 1; Optional PERC 6/i PCIe SAS/SATA/SSD hardware RAID card supports RAID 0, 1, 5, (RAID5 in mini-tower orientation only)

Operating System: Compatible with the following:
Genuine Windows 7 Ultimate 32-Bit; Genuine Windows 7 Ultimate 64-Bit
Genuine Windows 7 Professional 32-Bit; Genuine Windows 7 Professional 64-Bit
Genuine Windows 7 Ultimate 32-Bit with XP mode; Genuine Windows 7 Ultimate 64-Bit with XP mode
Genuine Windows Vista Ultimate SP1, 32-Bit; Genuine Windows Vista Ultimate SP1, 64-Bit
Genuine Windows Vista Business SP1, 32-Bit; Genuine Windows Vista Business SP1, 64-Bit
Red Hat Enterprise Linux WS v.5.3 EM64T (Also certified to run Red Hat Enterprise Linux Version 4.7 64-Bit
Power Supply: 875W 85% efficient Power Factor Correcting (PFC) power supply.

Dimensions: 45 Lbs, 18.54'' x 6.73'' x 17.64'' (L x W x H)

Networking: Integrated Broadcom® 5754 Gigabit Ethernet controller; 2nd Gigabit port available via optional PCIe Broadcom Gigabit controller card.

Slots: All full length except as noted. Two PCIe x16 slots wired as x8 (half length); two PCIe x16 Gen 2 graphics slots up to 150W each; one PCI-X 64bit/100MHz slot with support for 3.3V or universal cards; one PCI 32-bit/33MHz 5V slot (half length in desktop chassis orientation).

Standard I/O Ports: Eleven USB 2.0: two on front panel, six on back panel, three internal: one serial; one parallel; two PS/2; one RJ-45; stereo line-in and headphone line-out on back panel; microphone and headphone connector on front panel; one ESATA port on back panel, front and rear IEEE 1394a ports are provided with optional 1394 PCIe card.
---