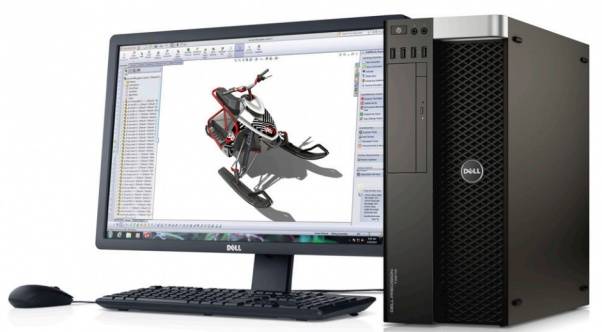 Precision T5600 Workstation
The T5600 is created using 3D modeling and has a sleek design. The workstation uses one or two Intel Xeon E5- 2600 processors and can get up to 128GB4 of quad-channel ECC memory. You have the option of an AMD or NVIDIA graphic card. The T5600 also uses Intel Turbo Boost Technology and ENERGY STAR 5.2 configurations to optimize your usage and minimize energy comsuption.
---
Intel Xeon processor E5-2600

Processor Family

Up to 8 Cores

Up to 128GB 1600MHz or 1333MHz Memory

Up to 5 Year Warrenty Available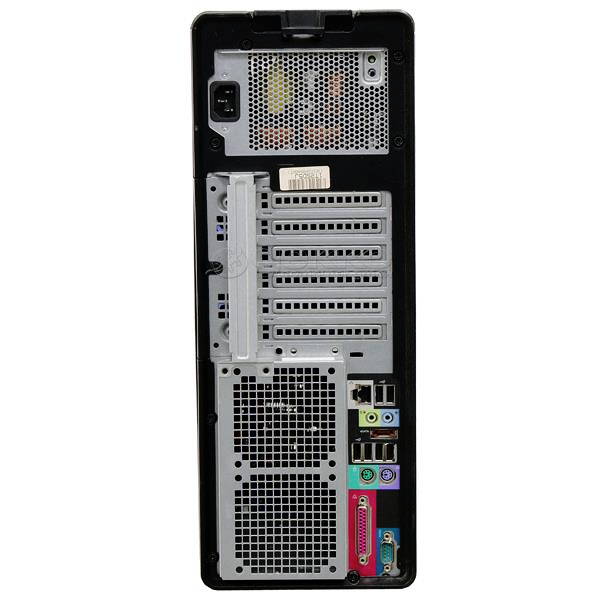 ---
Processor: Intel Xeon E5-2600 series processors up to 16 Total Cores with up to 2x 8.0GT/s and up to Hyperthreading available on select processors

Memory: Supports up to 128GB of total memory, Quad channel up to 1600MHz ECC RDIMM memory; 8 DIMM slots (4 per processor). (actual memory speed dependent on the processor capability)

Drive Bays: One external slimline optical bay; Two internal 3.5" hard drive bays; one external 5.25" bay.

Raid Controller: Optional H310 and H710 Raid Controller Available for Purchase.

Operating System: Compatible with the following:
Windows 10 Professional 32-Bit or 64-Bit

Windows 7 Ultimate 32-Bit or 64-Bit

Windows 7 Professional 32-Bit or 64-Bit

Windows 7 Ultimate 32-Bit or 64-Bit with XP mode

Windows Vista Ultimate SP1, 32-Bit or 64-Bit

Windows Vista Business SP1, 32-Bit or 64-Bit

Red Hat Enterprise Linux WS v.5.3 EM64T (Also certified to run Red Hat Enterprise Linux Version 4.7 64-Bit

Power Supply: 635W, externally accessible, toolless, 80 Plus Gold Certified, 90% efficient power supply.

Dimensions: 45 Lbs, 18.54'' x 6.79'' x 16.3'' (L x W x H)

Networking: Intel 82579 Gigabit Ethernet controller with Remote Wake UP, PXE and Jumbo frames support.

Slots: Two PCIe x16 Gen 3; one PCIe x16 Gen 3 wired x4; one PCIe x16 Gen 2 wired x4; one PCIe x1 Gen 2; One PCI 32bit/33MHz.

Front Ports: 3 - USB 2.0, 1 - USB 3.0, 1 - Microphone, 1 - Headphone.

Rear Ports: 5 - USB 2.0, 1 - USB 3.0, 2 - PS2, 1 - Serial, 2 - RJ45.

Internal Ports: 3 - USB 2.0, 2- SATA/SAS 6Gb/s.
---
Contact Our IT Specialist Now!
Not sure what you need? We have Sales Engineers available to help. Please contact via chat, phone, or using the form below.