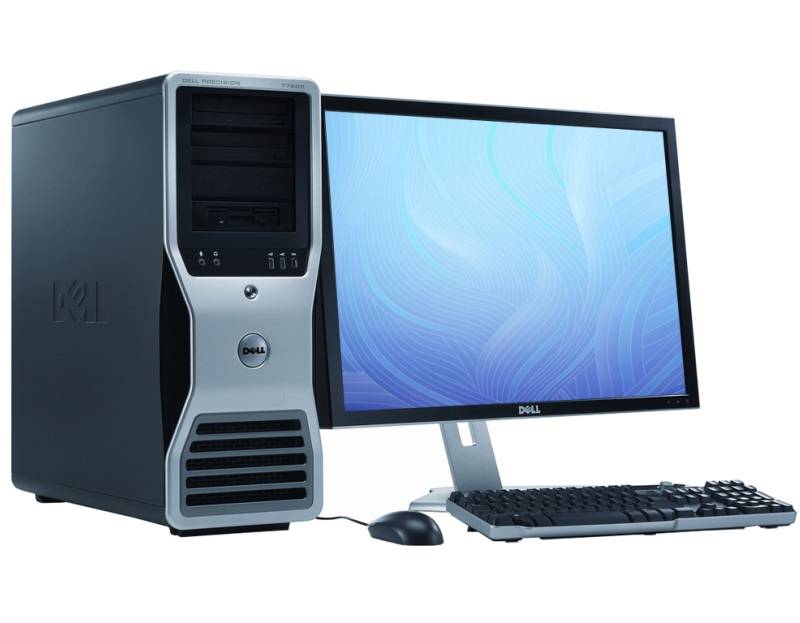 Precision T7500 Workstation
The T7500 workstation can use duel Intel Xeon 5500 or 5600 processors with 6 cores per CPU. The T5500 uses Intel's 5520 chipset. The maximum memory the workstation can use is 192Gbs DDR3 registered RAM with speeds up to 1333MHz. If you would like to add a graphics card the system has 1 full height PCIe x16 GEN2 wired x4, 2 PCIe x16 GEN2 wired x8, 2 PCie x16 GEN2, a PCI-X slot and a PCI 32Bit slot. The graphics card options let you choose between the Nvidia Quadro and FX series among other brands. The T7500 has room for 4 internal hard drives compatible with SATA/SSD and SAS drives with the maximum storage being 10TBs in total. The operating system we would recommend is Windows 7.
---
Intel Xeon 5500 and 5600 Processor Family

Uo to 12 Cores, 24 Cores Hyperthreading

Up to 192GB of DDR3 1333Mhz Memory

Up to 5 Year Warrenty Available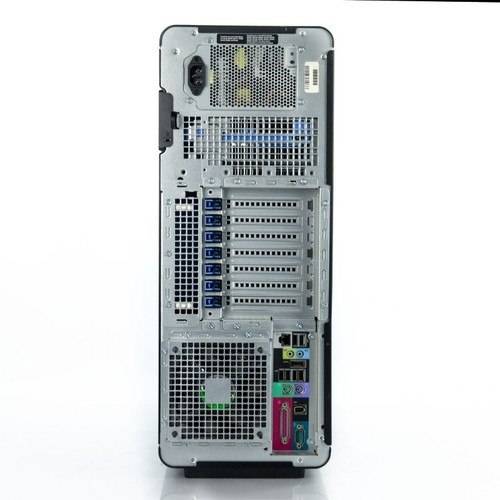 ---
Processor: Intel Xeon 3500, 3600, 5500, and 5600 series processors up to six-cores with up to 6.4GT/s (Intel QuickPath Interconnect) and up to 12MB shared cache. Turbo Boost Mode on select processors

Memory: Supports up to 192GB of total memory, Three-channel memory architecture per processor with up to 1333MHz DDR3 ECC Registered DIMM memory. Up to 9 DIMM slots; 6 slots (2 per channel) on motherboard and additional 3 slots on optional 2nd processor riser card (actual memory speed dependent on the processor capability).

Drive Bays: Chassis supports up to five internal drives in a SATA boot plus four SATA drive configuration (10.0 TB maximum storage capacity).

Raid Controller: Integrated LSI 1068e SAS/SATA 3.0GB/s controller supports host-based RAID 0 or 1. Optional PERC 6/i PCIe SAS/SATA/SSD hardware RAID card supports RAID 0, 1, 5, 10

Operating System: Compatible with the following:
Genuine Windows 7 Ultimate 32-Bit; Genuine Windows 7 Ultimate 64-Bit
Genuine Windows 7 Professional 32-Bit; Genuine Windows 7 Professional 64-Bit
Genuine Windows 7 Ultimate 32-Bit with XP mode; Genuine Windows 7 Ultimate 64-Bit with XP mode
Genuine Windows Vista Ultimate SP1, 32-Bit; Genuine Windows Vista Ultimate SP1, 64-Bit
Genuine Windows Vista Business SP1, 32-Bit; Genuine Windows Vista Business SP1, 64-Bit
Red Hat Enterprise Linux WS v.5.3 EM64T (Also certified to run Red Hat Enterprise Linux Version 4.7 64-Bit
Power Supply: 1100 watt 85PLUS Power Factor Correcting (PFC) power supply.

Dimensions: 55 Lbs, 22.3'' x 8.5'' x 22.26'' (L x W x H)

Networking: Integrated Broadcom® 5761 Gigabit Ethernet controller. 2nd Gigabit port is available with the optional PCIe Broadcom Gigabit controller card.

Expansion Slots: All full length except for slot 1; one PCI-e x16 Gen 2 wired as x4, two PCIe x16 Gen 2 slots wired as x8; two PCIe x16 Gen 2 graphics slots; one PCI-X 64bit/100MHz slots with support for 3.3V or universal cards, one PCI 32bit/33MHz 5V slot.

Standard I/O Ports: Eleven USB 2.0: two on front panel, six on back panel, three internal; two IEEE 1394a: one front, one rear; one serial; one parallel; two PS/2, ne RJ-45; stereo line-in and headphone line-out on back panel; microphone and headphone connector on front panel, 1 ESATA port on back panel.
---