HP Z220 Small Form Factor Workstation
The Z220 SFF is a smaller version of the Z220 CMT that is only 13.3 inches tall, 4 inches wide and 16 inches deep. So if you are looking for a workstation that gives you quality and doesn't take up a lot of room this system is for you. It can support Intel Xeon and Intel Core processors both with low energy consumption it supports both DDR3 and Non-ECC unbuffered dimms, 2 channels with 2 dimms per channel are supported. The system comes with 1 internal 3.5" bay and 1 external 5.25" bay. As for expansion slots the system comes with 1 PCIE Gen3 x16 slot, 1 PCIE Gen2 x4/x16 Slot, 1PCIE Gen2 x1 and PCI Slot these are all low profile. For video cards you have the option to choose between the AMD FirPro V3900, the Nvidia Quadro 410 or the Nvidia Quadro 600. The power supply that is required if you choose to install a video card will be a 400W 90% efficiency or if you choose not to install a video card you can use a 240W 90% efficiency power supply. For your operating system we recommend Windows 7.
---
Intel Core 2nd and 3rd Gen i3, i5, and i7 Procssors Family

Intel Xeon E5-1200 and E5-1200v2 Processor Family

Up to 32GB of DDR3 ECC or Non-ECC RAM

Up to 4 Cores, thats 8 Cores Hyperthreading!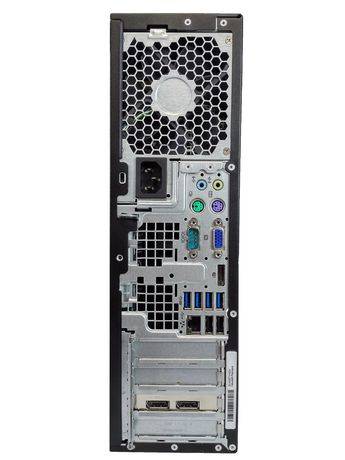 ---
Processor: Intel Core 2nd and 3rd Gen i3, i5, and i7 Procssors Family or Intel Xeon E5-1200 and E5-1200v2 Processor Family.

Memory: Supports up to 32GB ECC / 32GB non-ECC of total memory, 4 DIMM slots, supporting ECC/non-ECC, DDR3 1600 MT/s (actual memory speed dependent on processor capability).

Drive Bays: 1 internal 3.5-inch bay, and 1 shared internal/external 3.5-inch bay.

Operating System: Not Included.

Power Supply: 240W 92% Efficiency power supply; 240-watt Standard Efficiency Power Supply available in some countries.

Optical Drive(s): DVD Drive.

Dimensions: 18 Lbs, 15'' x 13.3'' x 3.95'' (L x W x H)

Networking: Integrated Gbit LAN MAC by Intel PHY Lewisville 82579LM; Management capabilities WOL, PXE 2.1 and AMT 8

Slots: 1 PCIe Gen3 x16 slot, 1 PCIe Gen2 x4 slot /x16 connector, 1 PCIe Gen2 x1 slot, 1 PCI (all slots are Low Profile).

Front Ports: 4 USB 2.0, 1 Headphone, and 1 Microphone.

Rear Ports: 1 VGA and 1 DisplayPort (DP 1.1)output from Intel HD graphics (available on specific processors only); 4 USB 3.0 ports, 2 USB 2.0 ports, 1 standard and 1 optional serial port, 1 optional parallel port, 2 PS/2, RJ-45 (NIC), 1 Audio Line-in, and 1 Audio Line-out; 2 IEEE 1394b ports(optional).

Internal Ports: 4 USB 2.0 ports available by two separate 9-pin headers .

Peripherals: Power Cable Included. Mouse, Keyboard, and Video Cable Not Included
---