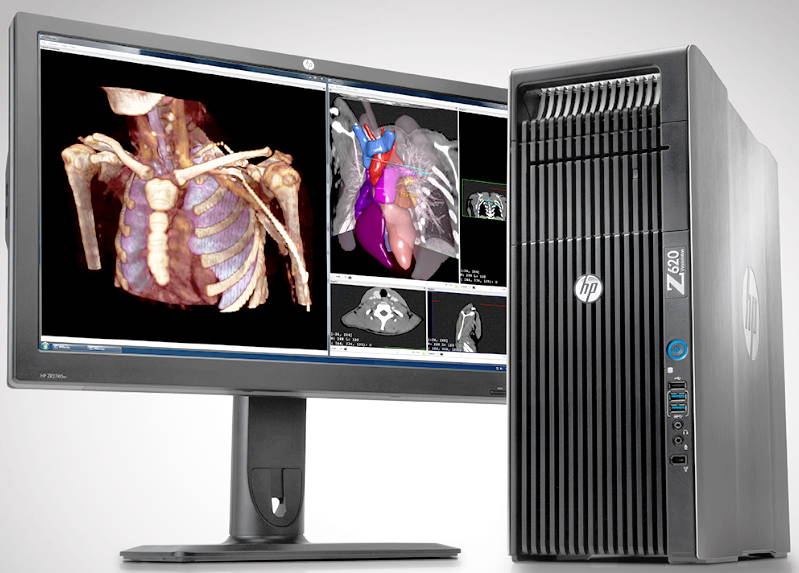 HP Z620 Workstation
This new Z620 is a great addition to a home office or business it doesn't compare to previous generations, it is quiet and compact and can be adjusted to your personal needs. It now has single or dual processor capabilities able to support 27 different processors. The media bay supports either a DVD or Blue Ray writer or 15-1 Media Card Reader. The power supply is larger than before offering an 800W 90% efficient power supply and can hold more memory with each processor supporting up to 4 channels of DDR3. Thunderbolt™ technology is also an option to add to the workstation to give you high- resolution displays and high-performance data with a single cable.
---
Intel Xeon E5-1600, E5-1600v2, E5-2600, or E5-2600v2 Processors

Up to 24 Cores, thats 48 Cores Hyper-Threading

Up to 192GB of DDR3 ECC memory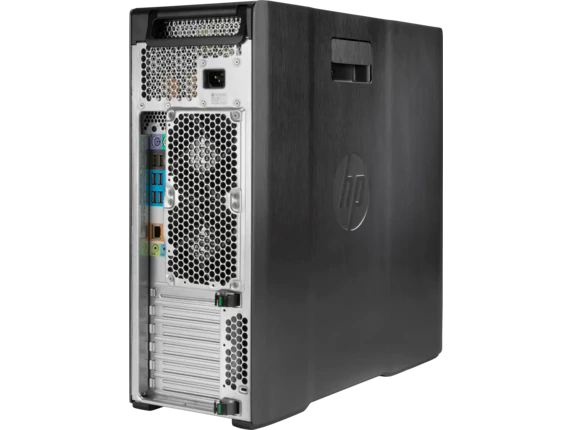 ---
Processor: Intel Xeon E5-2600 (Gen I Motherboard) and E5-2600 V2 (Gen II Motherboard) series processors up to 24 Total Cores with up to 2x 8.0GT/s and up to Hyperthreading available on select processors

Memory: Supports up to 192GB of total memory, 12 DIMM slots, 6 slots per CPU (actual memory speed dependent on processor capability)

Drive Bays: Up to three 3.5'' or 2.5'' (adapter needed for 2.5'') internal SATA, SAS or SSD hard drives. 2 external 5.25" bays.

Raid Controller: SATA RAID 0, 1, 5, and 10 support standard on motherboard. Interface includes: 2 channels of SATA 6.0 Gb/s, and 8 channels of SATA 3.0 Gb/s.

Operating System: Compatible with the following:
Windows 10 Professional 32-Bit or 64-Bit
Windows 7 Ultimate 32-Bit or 64-Bit
Windows 7 Professional 32-Bit or 64-Bit
Windows 7 Ultimate 32-Bit or 64-Bit with XP mode
Windows Vista Ultimate SP1, 32-Bit or 64-Bit
Windows Vista Business SP1, 32-Bit or 64-Bit
Red Hat Enterprise Linux WS v.5.3 EM64T (Also certified to run Red Hat Enterprise Linux Version 4.7 64-Bit
Power Supply: 800 Watt 90% Efficient Power Supply

Dimensions: 45 Lbs, 18.3'' x 6.75'' x 17.5'' (L x W x H)

Networking: Dual Integrated Intel Gigabit Ethernet.

Slots: 1 Full-Length x8 PCI-Express Slot 1 Low-Profile x8 PCI-Express Slot.

Front Ports: 2 x USB 3.0, 1 x USB 2.0, 1 Headphone, 1 Microphone, 1 iIEEE 1394A.

Rear Ports: 2 x USB 3.0, 4 x USB 2.0, 2 x RJ-45 Integrated Gigabit LAN, 2 x PS/2, 1 x Audio Line-In, 1 x Audio Line-Out, 1 x Microphone.
---