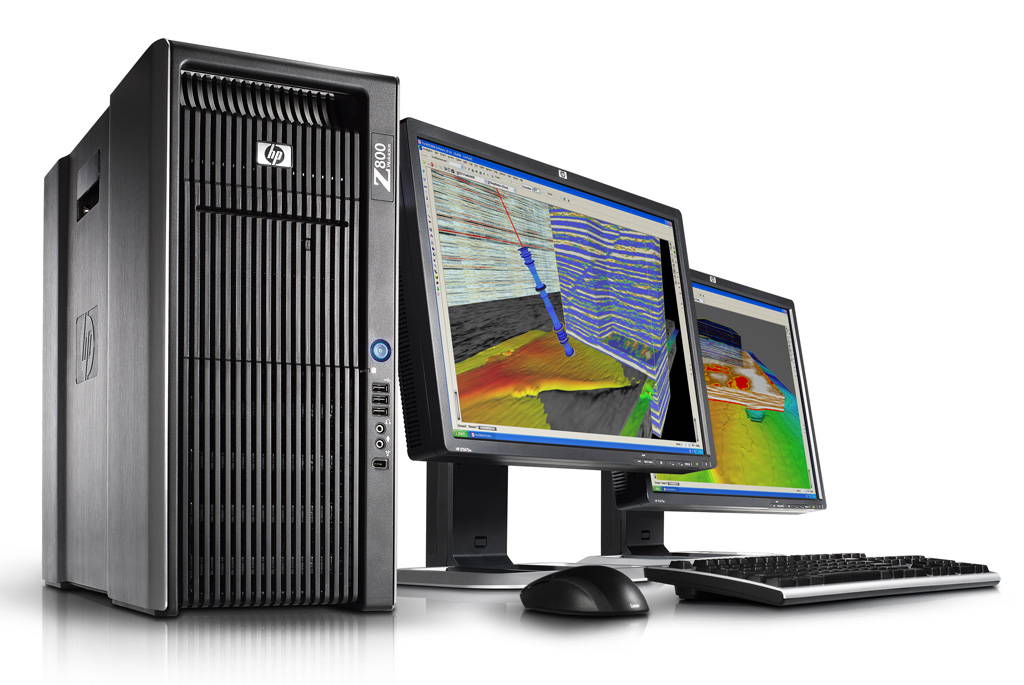 HP Z800 Workstation
The Z800 is an upgraded version from the Z820 and comes with built in handles and a lower noise output than previous versions. The system comes with dual onboard sockets that can support Zeon 5500 or 5600 processors. The total memory capacity is 192GBs and has up to 8TB of hard drive storage. There are also another four channels for internal drives available. The Z800 allows for any PCIE Gen2 graphic card to be used but it can also handle multiple high end graphic cards and high end TDP processors. Using the standard processors and graphics the system will require an 850W 85% efficient power supply but it can be replaced by 1100W 89% efficient power supply when using high end parts. We recommend Windows 7 as an operating system with this product.
---
I

ntel Xeon 5500 and 5600 Processor Family

Up to 12 Cores, thats 24 Cores Hyper-Threading!

256GB of DDR3 ECC RAM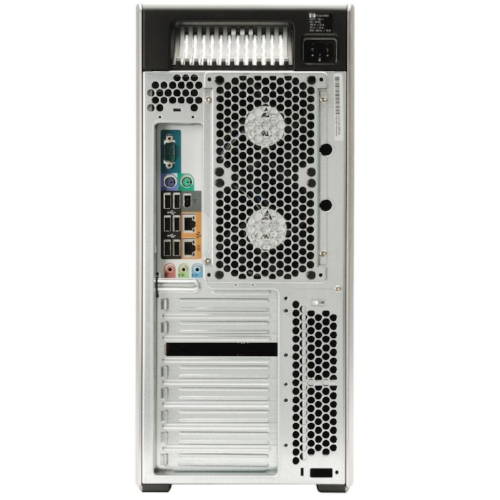 ---
Processor: Intel Xeon 5500 (Gen I Motherboard) and 5600 (Gen II Motherboard) series processors up to six-cores with up to 6.4GT/s (Intel QuickPath Interconnect) and up to 12MB shared cache. Turbo Boost Mode on select processors

Memory: Supports up to 256GB of total memory, 16 DIMM slots, 8 slots per CPU (actual memory speed dependent on processor capability)

Drive Bays: 4 internal bays and 3 external 5.25" bays.

Raid Controller: SATA RAID 0, 1, 5, and 10 support standard on motherboard (raid not supported with Linux). 6 channels of Serial ATA (SATA) and 8 channels of Serial Attached SCSI (SAS) 3.0 Gb/s natively supported.

Operating System: Compatible with the following:
Windows 10 Professional 32-Bit or 64-Bit
Windows 7 Ultimate 32-Bit or 64-Bit
Windows 7 Professional 32-Bit or 64-Bit
Windows 7 Ultimate 32-Bit or 64-Bit with XP mode
Windows Vista Ultimate SP1, 32-Bit or 64-Bit
Windows Vista Business SP1, 32-Bit or 64-Bit
Red Hat Enterprise Linux WS v.5.3 EM64T (Also certified to run Red Hat Enterprise Linux Version 4.7 64-Bit
Power Supply:
850W 85% Efficient wide-ranging, active Power Factor Correction.
1110W 89% Efficient wide-ranging, active Power Factor Correction**
**Required for X5677, X5687, X5680, and X5690 Processor option. Also required for Quadro 6000 and 2nd Quadro 4000 or Quadro 5000 graphic card

Dimensions: 55 Lbs, 20.7'' x 8'' x 17.5'' (L x W x H)

Networking: Dual Integrated Intel GbE LAN.

Slots: 2 PCIe Gen3 x16, 1 PCIe Gen3 x16 (with 2nd CPU), 1 PCIe Gen3 x16 mechanical/x8 electrical, 1 PCIe Gen3 x8 mechanical/x4 electrical, 1 PCIe Gen2 x8 mechanical/x4.

Front Ports: 2 USB 3.0, 1 USB 2.0, 1 Headphone, 1 Microphone, and 1 IEEE 1394a.

Rear Ports: 1 IEEE 1394a, 2 USB 3.0, 4 USB 2.0, 1 Serial, PS/2 keyboard and mouse, 2 RJ-45 to integrated Gigabit LAN, 1 Audio Line-In, 1 Audio Line-Out, 1 Microphone.

Internal Ports: 6 USB 2.0 ports available by three separate 2x5 headers. Each 2x5 header supports either one HP Internal USB Port Kit (EM165AA) or one Media Card Reader.
---