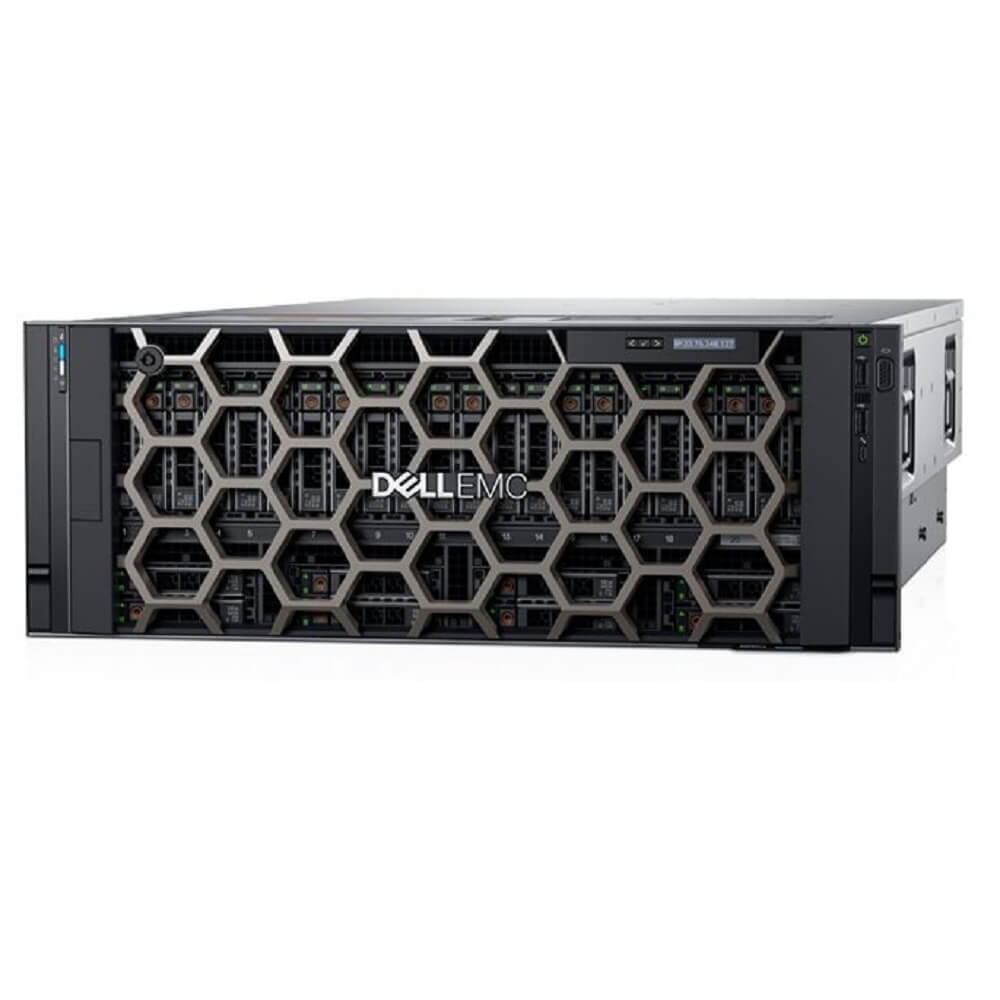 R940xa Server
The R940xa is a 4U four-socket server and uses four Intel Xeon Scalable processors with up to 112 processing cores. There are 48 DIMM slots, 12 of which can be used as NVDIMMs for a maximum memory storage of 384GB. The R940xa has many features such as increasing your efficiency with an iDRAC9 and protecting all your information with the configuration lock-down feature.
---
Processor: Up to four Intel Xeon Scalable processors, up to 28 cores
Memory:
48 DDR4 DIMM slots, Supports RDIMM /LRDIMM, up to 2666MT/s, 6TB max
Up to 12 NVDIMM, 384 GB Max
Supports registered ECC DDR4 DIMMs only
I/O Slots: Up to 12 Gen3 slots, (6 x 16 slots or 2 x 16 + 10 x 8 slots)
Raid Controllers:
Internal controllers: PERC S140, H330, H730P, H740P Boot optimized Storage Subsystem
External HBAs (RAID): H840
External HBAs (non-RAID): 12 Gbps SAS HBA
Drive Bays: Front drive bays: Up to 8 2.5" SAS SATA (HDD/SSD) max 30TB, or up 24 2.5" SAS/SATA (HDD/SSD) max 92TB, or up to 32 SAS/SATA (HDD/SSD) with up to 4 NVME PCIe SSD max 132TB.
Storage: Max Storage 122 TB
Embedded Nic: Network daughter card options:4 x 1GE or 2 x 10GE + 2 x 1GE or 4 x 10GE or 2 x 25GE
Power Supply:
Platinum 1100W, 1600W, 2000W, 2400W, 336-
380VDC 1100W, Gold 48VDC 1100W
Hot plug power supplies with full redundancy option 8 hot plugs fans with full redundancy
Remote Managememt:
DRAC9 with Lifecycle Controller (Express, Enterprise)
iDRAC Direct
iDRAC REST API with Redfish
Quick Sync 2 BLE/wireless module
GPU:
Accelerators: Up to 4 doublewide GPUs or up to 8 full-height FPGAs
GPU: Nvidia Tesla P100, P40, V100
GPU: Nvidia Tesla P100, P40, V100
Nvidia Tesla P100, P40, V100
Ports:
Front ports: Video, 2 x USB 3.0, dedicated IDRAC Direct USB
Rear ports: Video, serial, 2 x USB 3.0, dedicated iDRAC network port
Video card: VGA
---