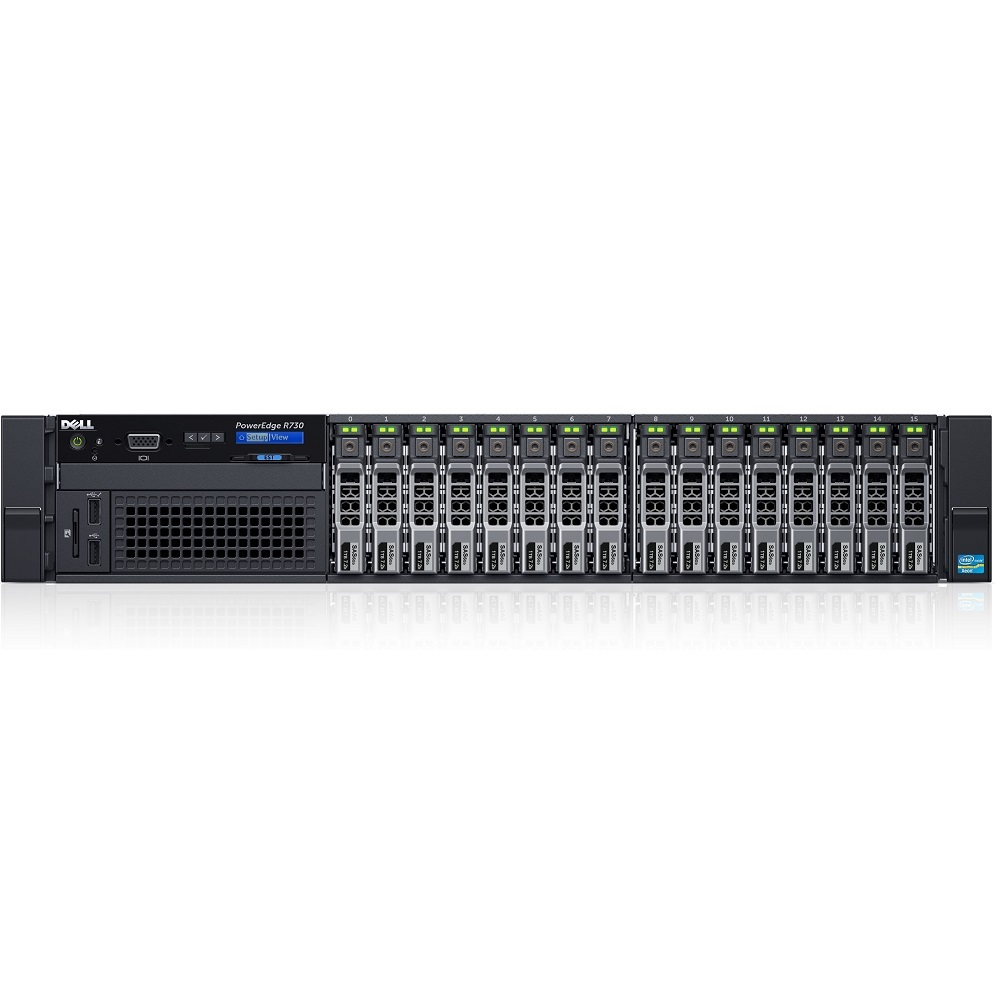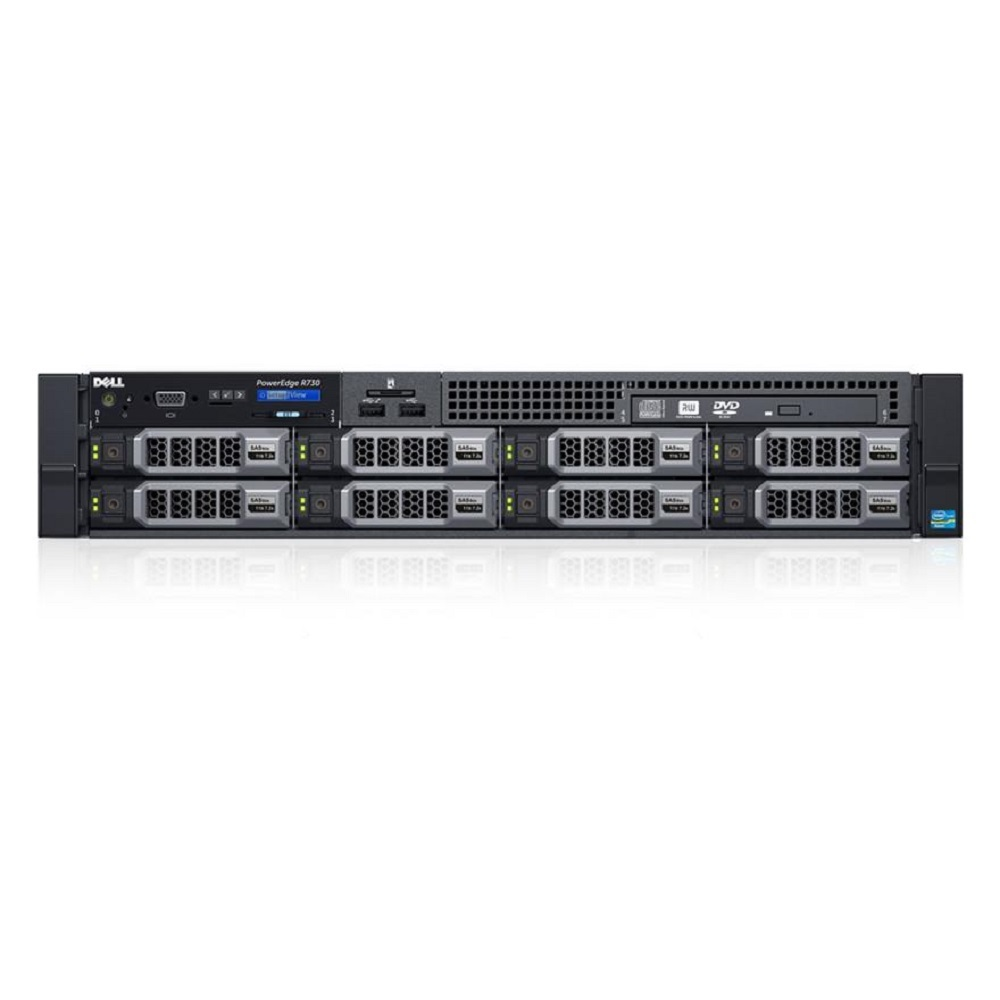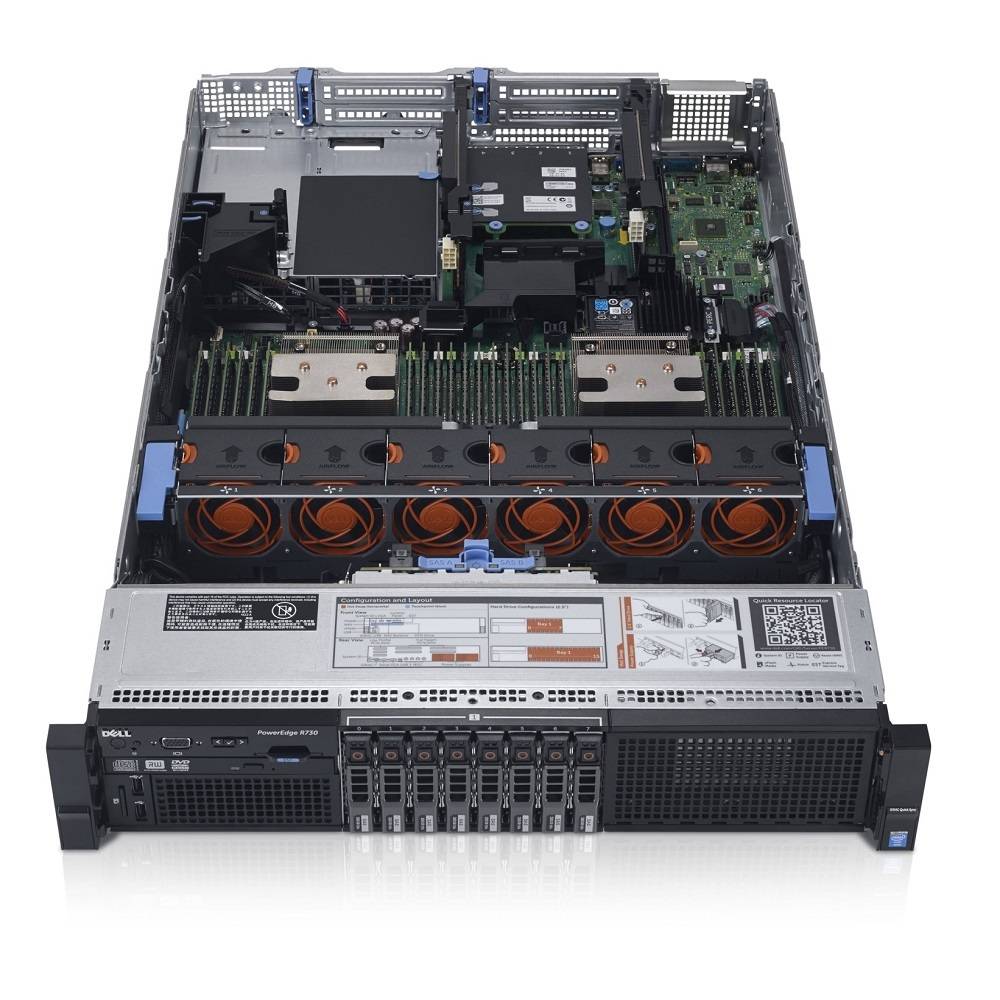 R730 Server
This server can be used for larger and higher-performing machines for data centers and cloud platforms. It contains 2-sockets and a 2U rack with the high performance of an Intel® Xeon® processor E5-2600 v3 product family. The servers' memory has a large footprint and offers up to 24 DIMMs of DDR4 RAM.
---
Processor: Intel Xeon processor E5-2600 v3 and E5-2600 v4 product family
Number of Processor Slots: 2
Cache: 2.5MB per core; core options: 4, 6, 8, 10, 12, 14, 16, 18, 22
Chipset: Intel C610
Memory: Up to 3TB (24 DIMM slots, 12 per processor): 4GB/8GB/16GB/32GB/64GB/128GB DDR4 up to 2400MT/s, actual memory speed dependent on the processor capability.
I/O Slots: Up to 7 x PCIe 3.0 plus dedicated PERC slot:
One x16 full-length, full-height
Three x8 full-length, full-height
Three x8 half-length, half-height
*In a single-processor configuration, slots 1–4 are not usable.
Raid Controllers:
Internal controllers: PERC S130 (SW RAID), PERC H330, PERC H730, PERC H730P
External HBAs (RAID): PERC H830
External HBAs (non-RAID): 12Gbps SAS HBA
Drive Bays: Internal hard drive bay and hot-plug backplane:
16 x 2.5" HDD: SAS, SATA, nearline SAS SSD: SAS, SATA
8 x 2.5" HDD: SAS, SATA, nearline SAS SSD: SAS, SATA
8 x 3.5" HDD: SAS, SATA, nearline SAS SSD: SAS, SATA
Storage: HDD: SAS, SATA, nearline SAS SSD: SAS, SATA:
16 x 2.5" – up to 29TB via 1.8TB hot-plug SAS hard drives
8 x 3.5" – up to 64TB via 8TB hot-plug NL SAS hard drives
Embedded Nic: Daughter Card Options Included:
Intel I350 Quad Port 1GbE BASE-T
Broadcom 5720 Quad Port 1GbE BASE-T
Intel X540 Dual Port 10GbE BASE-T with I350 2 x 1GbE
Broadcom 57800S Dual Port 10GbE Base-T with I350 2 x 1GbE
Broadcom 57800S Dual Port 10GbE SFP+ with I350 2 x 1GbE
Power Supply: Titanium efficiency 750W AC power supply; 1100W DC power supply; Platinum efficiency 495W, 750W, 1100W
Remote Managememt:
iDRAC8 with Lifecycle Controller, iDRAC8 Express (default)
iDRAC8 Enterprise (upgrade) 8GB vFlash media (upgrade)
16GB vFlash media (upgrade) iDRAC Quick Sync
Dimensions: Up to 70 Lbs, 3.44'' x 17.49'' x 26.92'' (H x W x D)
---