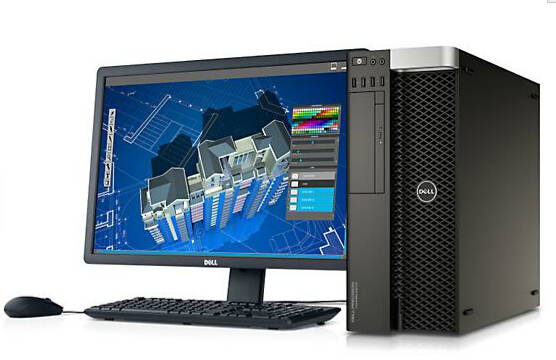 Precision Tower 7810 Workstation
The 7810 is made for reliability and optimization, the system uses Dual Intel Processor E5-2600 v4 with up to 22 cores per processor. The maximum memory the T7810 uses is 256GB with speeds of up to 2400Mhz DDR4 memory. The hard drives are 14 times faster than traditional SATA SSD storage with options of Ultra-Speed Drive Duo and Quad PCLe NVMe SSD storage and if you would like a more traditional storage you can use Intel CAS-W software. Graphics options range from NVIDIA Quadro and AMD FirePro graphics. Reduce time saving date with optional PCLe SATA/SAS Raid controllers as for the operating system we recommend Windows 10.
---
Intel Xeon E5-2600 V3 and E5-2600 V4 Processor Family

Up to 36 Cores, 72 Cores Hyperthreading

Up to 256GB of DDR4 1866Mhz Memory

Up 5 Year Warrenty Available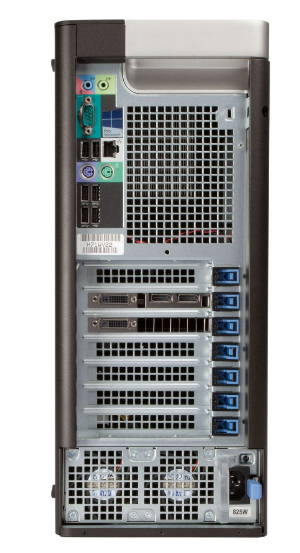 ---
Processor: Intel Xeon E5-2600 V3 series processors up to 36 Total Cores with up to 2x 8.0GT/s and up to Hyperthreading available on select processors

Memory: Supports up to 256GB of total memory, Quad channel, 8 DIMM Slots (4 per processor) up to 2400 MHz DDR4 ECC RDIMM memory.

Drive Bays: Two internal 3.5" hard drive bay, one external 5.25" bay, and one external slimline optical bay.
Raid Controller: Intel AHCI 6Gb/s SATA controller with six ports at 6Gb/s, two reserved for optical drives, Intel RSTe supports software RAID 0,1,5,10
Operating System: Compatible with the following:
Windows 10 Professional 32-Bit or 64-Bit

Windows 7 Ultimate 32-Bit or 64-Bit

Windows 7 Professional 32-Bit or 64-Bit

Windows 7 Ultimate 32-Bit or 64-Bit with XP mode

Windows Vista Ultimate SP1, 32-Bit or 64-Bit

Windows Vista Business SP1, 32-Bit or 64-Bit

Red Hat Enterprise Linux WS v.5.3 EM64T (Also certified to run Red Hat Enterprise Linux Version 4.7 64-Bit
Power Supply: 685W or 850W 90% Efficient wide-ranging, active Power Factor Correction

Dimensions: 50 Lbs, 16.95'' x 8.5'' x 20.67'' (L x W x H)

Networking: Integrated Intel I217 Gigabit Ethernet controller, Single Port. Controller

Slots: 5 full-length slots, 1 half length, two PCIe x16 Gen 3; 1 PCIe x16 Gen 3 wired x8 (half-length); 1 PCIe x4 Gen 2; 1 PCIe x1 gen2; one PCI 32 bit/33MHz

Front Ports: 3 USB 2.0, 1 USB 3.0, 1 Microphone, 1 Headphone, 2 RJ45

Rear Ports: 3 USB 2.0, 3 USB 3.0, 2 PS2, 1 serial, 1 RJ45 (Intel Gigabit Ethernet)

Internal Ports: 3 USB 2.0, 4 SATA/SAS 6Gb/s, 2 SATA 6GB/s (for optical drive(s)), 1 Serial
---
Contact Our IT Specialist Now!
Not sure what you need? We have Sales Engineers available to help. Please contact via chat, phone, or using the form below.