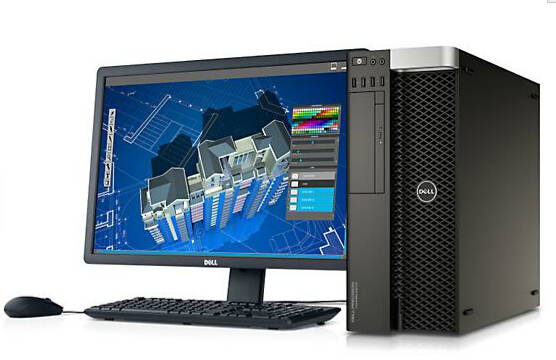 Precision Tower 7920 Workstation
The latest and greatest from Dell Precision line. This dual socket machine provides ultimate scalability and performance. Power through your most complex applications efficiently and rapidly with a new generation of 6-Channel Intel Scalable Xeon Processors with up to 28 cores per processor. Thats 56 cores per processor hyperthreading! Has room for up 3TB of DDR4 RAM with speeds up to 2666MT/s with select CPUs (Max ram requires dual processors). The new flex bay design allows up to ten hotswap 2.5" or 3.5" drives (4 bay is standard, adapter required for ten). You can swap out or remove drives without ever having to shut down.
---
Intel Scalable Xeon Processors

Up to 56 Cores, 112 Cores Hyperthreading

Up to 3TB of DDR4 2666Mhz Memory

Up 5 Year Warranty Available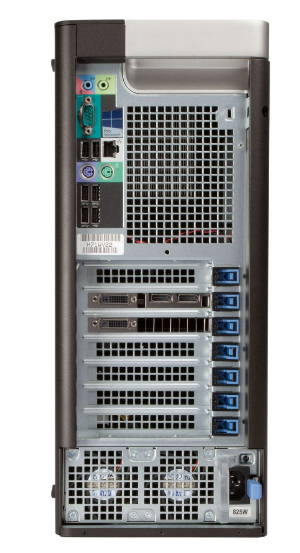 ---

Processor: One or two Intel Xeon processor Scalable family CPUs with up to 28 cores per processor and Intel Advanced Vector Extensions, Intel Trusted Execution Technology, Intel AES New instructions, Optimized Intel Turbo Boost and optional Intel vPro technology.

Memory: Supports up to 1.5TB of total memory, Six channel memory up to 2666MHz DDR4 ECC memory with dual CPUs, 24 DIMM Slots (12 DIMMs per CPU). Note: Price for CTO are based on 2666Mhz Memory Modules.

Drive Bays: Front accessible FlexBays support up to 4 x 2.5"/3.5" SATA HDD/SSDs. up to 8 drives with optional (not included) rear FlexBays populated with integrated Intel SATA controller.

Storage Controller: Intel chipset SATA controller (6Gb/s) with 6 SATA ports plus 2 dedicated ports for optical drives. Intel RSTe software RAID 0,1,5,10.

Graphics: Support for 4 PCI Express x16 Gen 3 graphics cards - up to 750W with maximum of 3 x 250W double width graphics cards in 3 slots (dual CPU configuration) and up to 2 x 375W cards. 20VAC input supply recommended for 750W configurations and some restrictions apply

Operating System: Compatible with the following:
Windows 10 Pro for Workstations (up to 4 Cores)

Windows 10 Pro for Workstations (4 Cores Plus)

Windows 10 Pro for Workstations Downgrade to Windows 7 (up to 4 Cores)

Windows 10 Pro for Workstations Downgrade to Windows 7 (4 Cores Plus)

Red Hat Enterprise Linux

7.3 Ubuntu Linux 16.04

Suse Linux (SLES 12 SP2) supported

Power Supply: 1400W(input voltage 100VAC - 240VAC) –90% efficient (80PLUS Gold Certified) Externally accessible/removable/lockable

Dimensions: 50 Lbs, 21.46'' x 8.5'' x 17.13'' (L x W x H)

Networking: Intel i219 & i210 Gigabit Ethernet controllers with Intel Remote Wake UP, PXE and Jumbo frames support

Slots: All slots PCIe Gen 3: (2) PCIe x16, (2) additional x16 slots with 2nd CPU; (1) PCIe x8 open ended, (1) x16 wired as x 4, (1) x16 wired as x1

Front Ports: (2) USB 3.1 Gen 1 Type A, (2) USB 3.1 Type C, (1) Universal Audio Jack, Up to 4 x 4 PCIe slots in PCIe enabled chassis for M.2 and U.2 (future) PCIe SSDs

Rear Ports: (6) USB 3.1 Gen 1 Type A, (1) Serial, (2) RJ45 Network, (2) PS2, (1) Audio Line out, (1) Audio Line in/Microphone

Internal Ports: (1) USB 2.0,(1) 2 x 5 USB 2.0 header. (requires 3rd party splitter cable to support 2 x USB 2.0 Type A ports), (8) SATA @6Gb/s plus 1 SATA for optical

Audio Controller: Integrated Realtek ALC3234 High Definition Audio Codec (2 Channel). Optional Dell Digital Audio Interface (2Ch, 120dB S/N ratio – 5.25" Flex Bay option (USB interface) (future)

Speakers: Internal Speaker

Peripherals: Power Cable Included. Mouse, Keyboard, and Video Cable Not Included.

*Systems are built to order and fully customizable. Please contact us directly to customize a system for you - REQUEST A QUOTE Please note that a stock photo is used and unit may differ depending on configuration.
---
Contact Our IT Specialist Now!
Not sure what you need? We have Sales Engineers available to help. Please contact via chat, phone, or using the form below.